Schedule a Tour
Text here.
Email address or form?
Month 1, 8, 15, 22, 29
Month 1, 8, 15, 22, 29
Month 1, 8, 15, 22, 20
Month 1, 8, 15, 22, 20
Month 1, 8, 15, 22, 29
Month 1, 8, 15, 22, 29
Month 1, 8, 15, 22, 20
Month 1, 8, 15, 22, 20
Schedule a Tour
Text here.
Email address or form?
Month 1, 8, 15, 22, 29
Month 1, 8, 15, 22, 29
Month 1, 8, 15, 22, 20
Month 1, 8, 15, 22, 20
Month 1, 8, 15, 22, 29
Month 1, 8, 15, 22, 29
Month 1, 8, 15, 22, 20
Month 1, 8, 15, 22, 20
Subject Classes
If you've had the experience of binding a book, knitting a sock, playing a recorder, then you feel that you can build a rocket ship — or learn a software program you've never touched. It's not a bravado, just a quiet confidence. There is nothing you can't do. Why couldn't you? Why couldn't anybody?
— Peter Nitze, entrepreneur and graduate of the Rudolf Steiner School, Harvard, and Stanford
Applied Arts
"Thinking is like cosmic knitting," wrote Waldorf school founder Rudolph Steiner. Working with the hands is an essential component of the Waldorf curriculum. Steiner developed a comprehensive handwork curriculum for Waldorf students based on this idea—filling it with knitting, sewing, clay and beeswax modeling, felting, and woodworking— in the belief that a person nimble in fingers is also nimble in intellect.
Movement / Spacial Dynamics™
We know physical activity, both indoors and outside, to be of paramount importance to the body, mind, and spirit of the developing child, and the Waldorf curriculum addresses this need through recess, sports, and games throughout the grades.
Lower grades offer social and rhythmic games, circle games, hand-clapping games, beanbag activities, and jump ropes—all to encourage working together as a group.
Games and sports become more individualized in the middle school years: fifth graders learn the events of the Greek Pentathlon—javelin, discus, long jump, wrestling, and running—that culminates in an Olympiad hosted by a regional Waldorf school each spring. Along with team sports, middle-schoolers enjoy archery, Greek wrestling, circus skills such as unicycling and juggling, and gymnastics.
Recess and outside play has always played a huge role in Waldorf Education. Early Childhood classes spend time playing in the fresh air every day. In addition to classroom movement, the lower grades enjoy recess outside twice daily, regardless of weather, while the upper grades receive one-to-two recess periods.
Gardening
Environmental stewardship is part of our school mission, as well as a worldwide imperative. Our gardening curriculum teaches elements of botany and encourages students to learn about the sources of their food. Linden's gardening teacher works with the children and brings in a biodynamic specialist to augment their experience. Our teacher demonstrates gardening as a part of everyday life by her presence, and she leads the youngest children to garden by example. Bountiful raised beds sowed to organic vegetables and planted with annuals and wildflowers to attract pollinators become a source of daily discovery of our connection to the earth. In third grade, maintaining the on-site garden becomes central to the curriculum, as the children train in biodynamic gardening methods. Students also learn to compost garden vegetation to further understand the lifecycle. Individual garden times with those students who need alternative plans to their daily schedule are also offered. Read about our gardening program, as featured in Edible Nashville.
Learning with Head, Heart, and Hands
Our expert subject teachers combine their knowledge of the subject matter and understanding of child development to provide a unique experience to our students: a deep-dive study into vocal and instrumental music, applied arts, gardening, foreign languages, and more. Take a look at the broad array of specialty subjects in which Linden students are immersed.
Foreign Languages: Mandarin and Spanish
Research consistently shows the benefits of learning foreign languages for children. Our dual-language program of both Mandarin and Spanish from first through fourth grades, followed by intensive study of Spanish from fifth through eighth grades, provides both an intellectual boost as well as a window into the cultural practices of the wider world—in Nashville and beyond.
Children begin learning both Spanish and Mandarin separately in first grade through songs, verses, stories, festivals, and games; this approach mirrors the way children learn their own native language. First through sixth grades take Mandarin class twice weekly. In third through fifth grades, the written language and reading are added and, in middle school, grammar.
Singing, Flute, and Recorder
Beginning with simple melodies in the early grades and progressing in older grades to learning rounds and two- and three-part songs, singing is an everyday part of the Waldorf curriculum. Beyond the many benefits of learning music, group singing also provides a sense of community and attunement to others.
Along with learning traditional and folk songs from the U.S. and around the world in grades one through eight, the interval and pentatonic flutes are introduced in first grade, followed by the soprano recorder in grade three. As children progress through the grades, they add alto, tenor, and bass recorders and sing increasingly complex two- and three-part choral works.
String Instruments and Orchestra
Orchestral strings class is a vital part of the Waldorf curriculum, deepening the learning and learning experience for the developing child. Beginning in third grade, each student plays an instrument from the stringed orchestra family, either violin, viola or cello. Linden students learn correct technique, develop listening and observation skills, and experience the gift of making music for others and themselves. They also learn to read and compose music, and all students begin private lessons by the fourth grade with the help from the city's music community. The young musicians give formal and informal concerts throughout the year and also support festivals celebrated within the Waldorf school.
Handwork
Over the course of their eight years in the grades, children are immersed in a handwork curriculum that includes knitting (beginning with a kitten in the first grade), purling, crocheting, spinning, simple weaving, cross-stitch, four-needle knitting, hand-sewing, felting, needle-felting, doll-making, and culminating with machine sewing, in which eighth graders cap off their eight years by sewing their own pajamas.
Woodworking
The woodworking curriculum spans fourth to eighth grades and includes both hand-carving and machine work. From fashioning a bowl from a block of wood, to creating a mechanical toy, which employs the laws of physics, to creating a custom-designed totem pole out of an entire Eastern red cedar log, the pleasure and stewardship of making something useful, beautiful, and long-lasting out of a natural resource is one to last a lifetime.
Cursive/handwriting
For nearly a century, cursive writing has been part of Waldorf Education because it has been shown to be an important part of child development. Our curriculum includes cursive handwriting, beginning in third grade. As the students hone their handwriting skills, their hand-eye coordination, neural pathways, and fine motor skills further develop. Read more: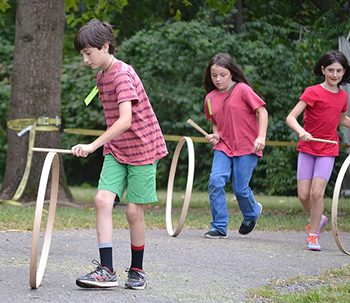 Eurythmy
You might be thinking, "What's Eurythmy?" It is a special kind of dance-like movement unique to Waldorf education, in which students learn where they are in space and how to move together in rhythm within a group.
The Eurythmy curriculum spans kindergarten through the eighth grade, and Linden has had the great opportunity of bringing in some of the country's greatest Eurythmy teachers for special study blocks, often culminating in a final showing for parents and students, alike.