LUNCHTIME OPTIONS FOR GRADES 1-8
NORI TUESDAYs
A new option for 2019-2020 lunchtimes is freshly made vegetable sushi, offered on Tuesdays throughout the school year. A cucumber-carrot salad roll with brown rice and a nori (seaweed) wrapper offers a healthful option for the vegetarian or vegan eater. Proceeds from this option will benefit the eighth grade class trip.
PIZZA THURSDAYS
The Class of 2020 is excited to offer yummy pizza from Coco's Italian Market for their fundraiser this year. Coco's is a local restaurant that has been in business for 47 years and prides themselves on using authentic, local, and fresh ingredients. We recommend that families purchase pizza plans for each semester, or annually. Pizza is offered on Thursdays during the school year.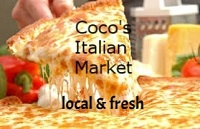 Linden Waldorf School's Beyond the Classroom program began March 30. Please visit our COVID-19 page and calendar for more school information.