Linden Waldorf School Curriculum
An Intentional Journey
In the words of founder Rudolf Steiner, Waldorf Education strives to produce "human beings who are capable themselves of imparting purpose and direction to their lives." By seeking to educate the head, heart, and hands of the child, the Linden curriculum covers a broad spectrum of subjects, balancing academics, artistic expression and skill, and practical learning. This time-tested educational philosophy is designed to stimulate and support the developing child—from fairy tales to sophisticated and complex concepts in modern society, all subjects are taught from historical and cultural origins. Included are works to inspire morality through the cultivation of gratitude, reverence, and love for the world. Download our Curriculum Chart.
The Grades Program
In a Waldorf school, the class teacher ideally moves with the students from first through eighth grades and the class grows together socially. Main Lesson classes provide an intentional, layered curriculum that originates with a deep knowledge of child development.
The first two hours of each day are devoted to the Main Lesson block, with Language Arts, Math, Science, and History taught artistically through developmentally appropriate stories, including fairy tales, saints and fables, Hebrew scriptures, Norse Myths, Ancient India, Ancient Rome, the Renaissance, and American History. Children create their own textbooks, moving from copying what their teachers create in the younger grades to writing their own text, based on their learning in the upper grades.
Subject Classes
Subject classes, including Music, Recorder, and Strings; Mandarin and Spanish; Handwork and Woodwork; and Spacial Dynamics (age appropriate movement and games) and Eurythmy (a unique form of dance which unites speech with movement) are all brought in developmentally appropriate and artistic ways. In the upper grades, specific language arts and math instruction round out the curriculum as the students prepare for high school.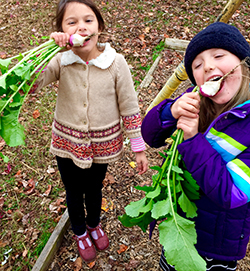 Early Childhood Education
Play is the work of childhood, and ages three through six is a time of magical exploration. The young child is exploring movement, discovering language, learning independence, and engaging in imaginative play.
In Linden Waldorf's Early Childhood program, teachers create a joyful daily, weekly, seasonal, and yearly rhythm to provide security and address the physical, social, and emotional aspects of our developing children. Joyful reverence for life is celebrated every day.
Through free play, both indoors and outdoors, children develop physically and socially. Rich language every day, both in song and story, provide a foundation for the development of literacy. Circle work brings song and movement along with both gross and fine motor skill development.
Both the classroom and the outdoor play garden have been intentionally created to be rich with sensory experiences and discovery from the natural world without being over-stimulating. Our Waldorf-trained teachers guide children through physical movement and and social skills, allowing the magic of discovering the world for the first time to take hold in the heart of the young child.
Extended Care
Linden Waldorf School offers morning care and after care for grades students and Resting Stars for early childhood students.